HTML clipboard Video sharing websites which enabled on internet that a user can share video through a networks and millions of user can watch the video and as well they can share their video too. In the meantime, some people creating brands of their company, some are making entertainment, some are advertising of their products.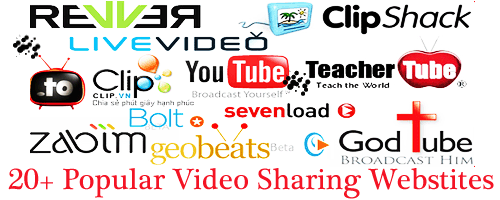 Hundreds of video sharing site, so a great competition going on and some company giving free of charge service and for better performance some paid services. Both public and private video sharing websites exist on web and now most probably every video sharing website's video generate by users and usually we only know, youtube video sharing site, google video sharing websites better identity. And in present web, some are growing, giving better service and engaging millions of users to share video through their websites.
ManiaTV

Online video sharing site but the purpose of video sharing site is to broadcast television through internet, just like as Voeh video sharing site.
ClipShack

Just like as other video sharing site, you can share too. You can surf video on basis of most watched video clips, most discussed video and so on features available. Make sure that you're going to signup, when you have done tons of options will be available free of cost.
Motionbox

This site providing high definition video for the users. It says, "Quick, easy, and reliable, Motion box is a secure place to share, edit, and store personal videos. It doesn't matter how long they are or how many videos you have."
Eefoof.com
A community where people can share video, music, audio files. And it has engagement with profit sharing. When you're casting video to their site, you will get paid for that. As much as you generate, you will be paid and if you're interesting user, of-course you will be benefited.
MySpace Video

One of the world's most popular video sharing websites. It says, "MySpace Video – Watch & Share Videos, Video Clips, Music Videos, TV Show Video & Movie Trailers Online". If you have myspace account, you can get all of this features. By selecting category or inputting query in search engine. You can grab video instantly.
Sharkle

A video sharing site where user generating video and easy to share your video with the whole world. This site has great web navigation features and the popular tag features help to find your desired topic based video from the server. It's totally free and anyone can signup and start to share video.
Note: Feel free to share other video sharing sites with us.